Dispatches from the dairy farm.
Bouke and Audrey DeHoop from Klamath Falls discuss country life, milk quality and hard work.
What's your favorite part of dairy farming?
"It's a great way of life on the dairy farm. It's wonderful to raise our children out in the country, and it's a wonderful way to teach them responsibilities, caring for and cleaning up the cows. We have to be very careful and make sure everything is clean. It's nice when there are dairy tours and the parents say things to me like "'Wow, your operation is so clean.' They are very impressed, and that makes me feel good." – Audrey
In what way is dairy farming a little misunderstood?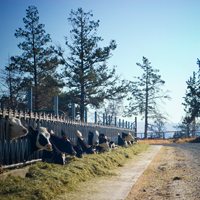 "Most people don't realize that from the time the milk leaves that cow, goes through the system and into the truck, and then is processed at the plant, it is NEVER touched by human hands. Not until it touches their lips. Think about that. Also, when the milk truck comes, the driver takes three or four samples to test for impurities. And when he unloads it, they sample again. They test for all sorts of things. We have the cheapest and safest food supply in the world and the majority of people have no idea where their food comes from. But that's starting to change now." – Bouke
Is it satisfying to run a dairy farm?
"I think the dairy business is important and meaningful. We are providing a food service to the public that is a quality product. If you can ask 20 different people about the definition of success, you'll get 20 different answers. But for me, if you're happy with that you're doing, if you're happy milking cows, then you're successful. To me good hard labor is very satisfying. If my boy leaves this dairy, I know one thing--he knows how to work. And he'll be great at anything he does." – Bouke